The Last Stop - Modern Supernatural
The Last Stop | Supernatural
Our Story:
Hollow Creek, NM is home to many supernatural beings and humans alike. The town, about 150 miles south of Roswell, grew to host its supernatural inhabitants under the cover of the alien craze. While there are many humans who protest their EXISTENCE, many of the humans in town simply accept them to make life more simple.

​there is a very thin thread that keeps the balance between the various supernatural races, a war between them is only a matter of time. Which side will you take?

Powered by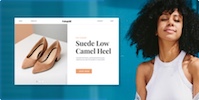 Create your own unique website with customizable templates.